Thank you for taking the 2021 State of Digital Accessibility Survey
Over 1000 professionals in all roles and industries took the survey which concluded on February 7, 2021.
To thank our community for taking the time to answer the survey, Level Access is donating $5,000 to a disability-focused non-profit YOU choose! The final question of the survey allows you to vote on the non-profit you'd like to receive our donation.
Voting results will be announced soon!
Sign up now to be first on the list to receive the 2021 State of Digital Accessibility Report!
Be part of the definitive industry report about digital accessibility
You don't need to be an accessibility expert to take the survey. You only need to be at an organization that is taking steps toward digital accessibility. Even baby steps count.
The report is insightful and valuable because of you, the people who answer the survey. Tell us about your path to accessibility. We will crunch the data and tell you how your organization compares to others of similar size or others in your industry.
If you participated in 2020's survey, thank you so much! And thank you in advance for being a part of 2021's report. We truly appreciate you being a part of this effort.
The State of Digital Accessibility Report will launch in Spring 2021, with a preview during CSUN.
Enter to win $100 or a donation to your favorite non-profit!
G3ict and IAAP are sponsoring prizes at the individual level. If you would like to give us your email address at the end of the survey, you will be entered to win your choice of:
a $100 VISA gift card or
a $200 donation to the disability-related non-profit you love.
$5000 Donation Leaderboard
Come back soon to see the final tally!
Some insights from the 2020 Report
Nearly 68% of participants said that their organization feels compelled to be inclusive of people with disabilities.
While 94% agree that testing by people with disabilities is important, 56% of organizations are not doing it.
More than 35% of participants stated that it was challenging to hire people with experience in digital accessibility.
55% of organizations have prioritized buying a product or solution because of its accessibility.
60% of organizations reported that current litigation trends have motivated them to move faster to achieve accessibility compliance.
If you missed the 2020 State of Digital Accessibility Report, you can download it here.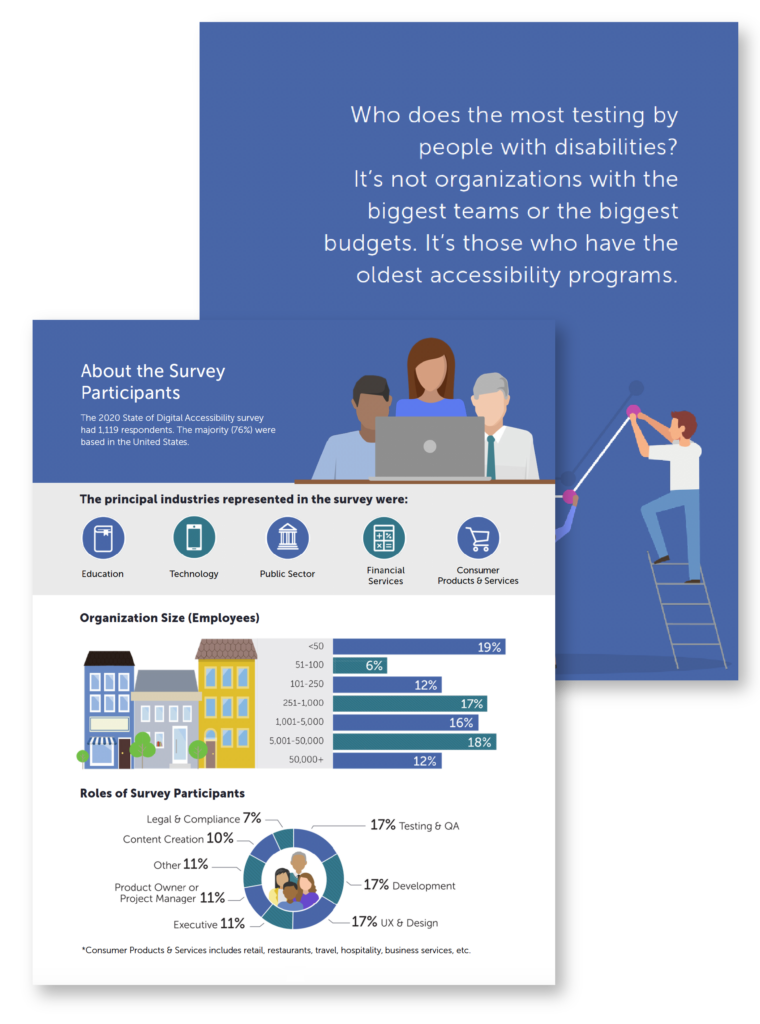 The 2021 State of Digital Accessibility Report is researched and written by Level Access in collaboration with G3ict and IAAP.