On-Demand Webinar
Original Presentation Date: July 22, 2021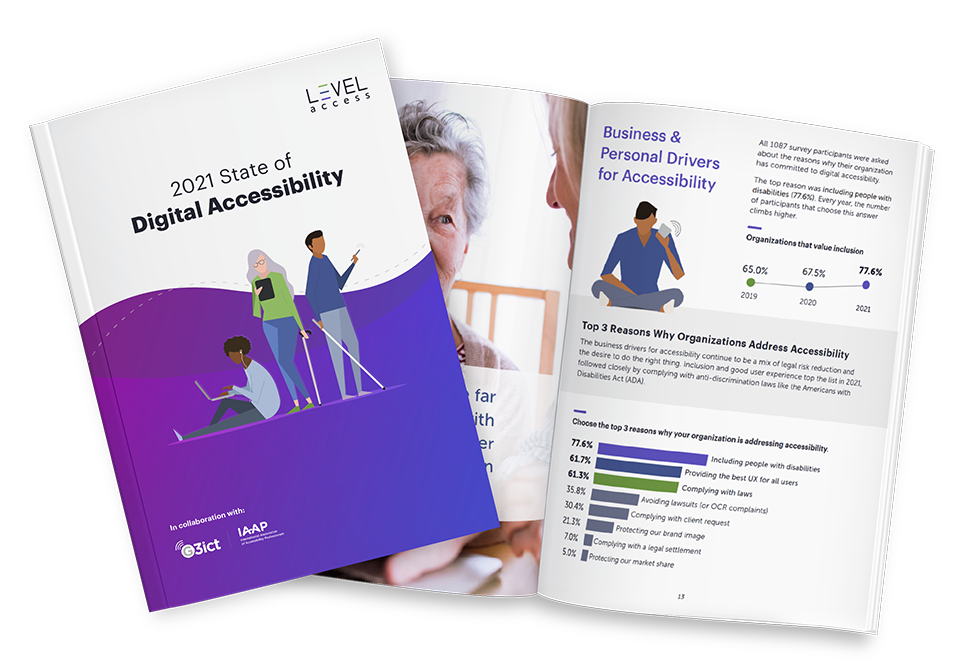 Dive into the 2021 State of Digital Accessibility Report with trends, insights, and tips to help your organization benchmark your current initiatives and better serve people with disabilities in the "new normal."
Over 1000 professionals across industries and job roles responded to this year's survey, sharing a candid look into their digital accessibility activities. From mature programs to those just getting started, C-suite to content authors, we learned about their legal and business drivers, top goals and challenges, testing practices, tools, procurement, and more.
And new for 2021, this year's report also delves into the impact of COVID-19 and how it has spurred new awareness and a heightened commitment to creating accessible web and mobile experiences across organizations of all sizes.
Webinar resources include the recorded presentation, slides, and CART transcript.
---
Access Webinar Resources
---
About the Presenter
Tim Springer
CEO & Founder, Level Access
Tim has dedicated over two decades to ensuring that technology not only meets regulatory standards, but also supports real world use by individuals with disabilities. As a leader in the digital accessibility industry, he has provided compliance solutions to thousands of organizations, advising enterprise-class corporations and government agencies on technical challenges and best practices required to successfully achieve accessibility. As the creator and designer of Level Access's core technology, he led the development of InFocus, the industry's first commercial software for testing web accessibility, and served as the chief architect for the firm's Accessibility Audit Methodology and Accessibility Management Platform (AMP).