The 2021 State of Digital Accessibility Report reveals the results of this year's survey of over 1,000 professionals in private- and public-sector organizations who shared a candid look into their accessibility initiatives.
Explore current trends in accessibility programs, business and legal drivers, testing, and tools, with insights and tips for marketing, legal and compliance, design and development, procurement, and more.
NEW IN 2021 The exponential growth of virtual activities has made digital inclusion a high priority in all sectors, and this year's report includes data on the impact of COVID-19 and how it has spurred new awareness and a heightened commitment to creating accessible web and mobile experiences.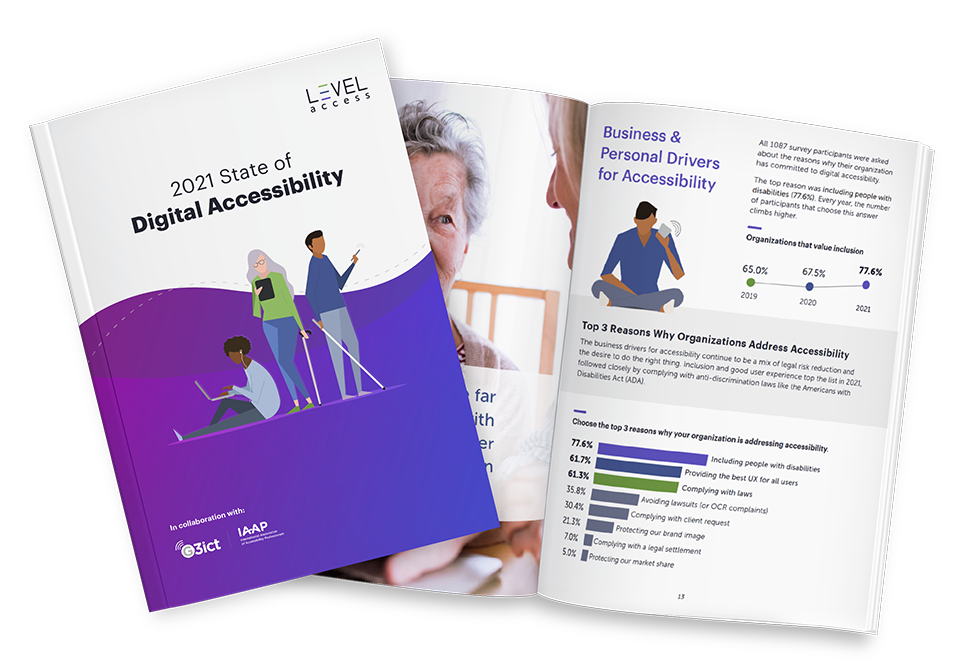 The 2021 State of Digital Accessibility Report is researched and written by Level Access in collaboration with G3ict and IAAP. 

Dive Deeper into trends like these from the 2021 survey:
Nearly 78% of participants said that their organization feels compelled to be inclusive of people with disabilities.
While 96% agree that testing by people with disabilities is important, only 53% of organizations are including them.
71% of organizations have prioritized buying a product or solution because of its accessibility.
50% of organizations reported that current litigation trends have motivated them to move faster to achieve accessibility compliance.
24% of organizations reported that the COVID-19 pandemic has accelerated their accessibility remediation timeline.
Download the 2021 Report Today!