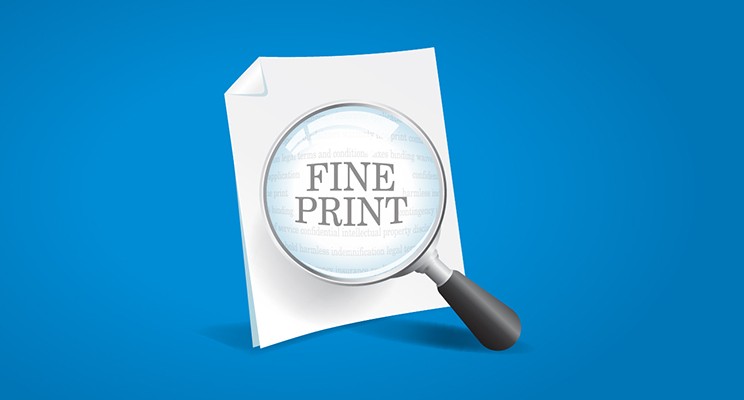 For WCAG, sure, even if it's not practical and unlikely to be true. For ADA, no, they won't. Let's cover that in two categories: the 'fine print,' and then, "could you even indemnify this away?"
The Fine Print
Many overlay and widget vendors are presenting their solutions like an insurance policy. Verbally, and in the bold print on their websites, they're telling prospects they'll make the site 100% compliant. The implication is they will cover all liability if they are ever sued. If you look at the terms and conditions or actual contracts, however, it's wholly and completely disclaimed and waived. The vendor is taking on zero actual legal or financial risk due to a lawsuit. Here's some example language pulled from a few prominent widget vendor sites:
"The installation of the [the widget] cannot guarantee that [a lawsuit] will not arise, and that embedding [the widget] in [the website] does not, on its own, fulfill all of the requirements of applicable law in respect of website accessibility…[You] irrevocably waive any claims against [the widget provider] from any liability, legal or otherwise, and [you] shall assert no claims against [the widget provider] in this regard"
"[The Widget Provider] DISCLAIM[S] ALL WARRANTIES OF ANY KIND, EXPRESS, IMPLIED OR STATUTORY…TO THE MAXIMUM EXTENT LEGALLY PERMISSIBLE, IN NO EVENT SHALL [The Widget Provider] … BE LIABLE FOR ANY DAMAGES WHATSOEVER, INCLUDING, BUT NOT LIMITED TO, DIRECT, INDIRECT, SPECIAL, PUNITIVE, EXEMPLARY, INCIDENTAL OR CONSEQUENTIAL DAMAGES OF ANY KIND…"
And my favorite:
"[The widget] does not guarantee WCAG compliance! it is your sole responsibility to ensure your website is accessible and tested for compliance with WCAG 2.1 or other accessibility regulations as required by law. Moreover, you hereby agree to test the [the widget] and all of its accessibility features on your website locally prior to rolling it out publicly to ensure proper functionality.
By choosing to use [the widget] you hereby claim that all of the pages and content on your site have been tested with common browsers and operating systems and with each of [the widget's] features (contrast changes, text size changes, keyboard navigation, cursor size, link highlighting, font changes, desaturation, etc.) and that all available functionality works properly and as intended."
By far the last is the best because it:
wholly disclaims any level of compliance;
obligates you, the site provider, to test every possible feature of the widget in every possible browser and operating system combination used on the site; and
has you warrant that you've actually done the last part.
That's actually far, far more testing than would be needed to make the system directly accessible in the first place.
"But they say they provide $1,000,000 of protection!!"
Great marketing claim! Couple of problems:
First, the $1,000,000 isn't something that's going to be paid out except under a breach of warranty or obligation as part of the service. You'll never have that happen as all the actual costs and liability are carved out here.
Second, the litigation and remediation cost—both website and procedures—are the core costs in digital accessibility lawsuits. Without explicit protection from those costs a certification, indemnification, or any million or hundred-million-dollar guarantee has no real value.
Third, the governing law of most of these agreements is Tel-Aviv-Jaffa, Israel. While that potentially makes for a fun trip, in practice, it means you have to fly to Tel-Aviv and pursue this via the courts there.
Can you even indemnify these obligations away?
More salient than the fact that the guarantee is unlikely to have any depth is that, mechanically, it's very difficult to "indemnify away" your ADA obligations. At a basic level, virtually all of the lawsuits in this space are seeking injunctive relief to force the defendant to change their business operations (policies, practices, and procedures) to ensure compliance. That requirement finds its basis in one of the specific prohibitions of the ADA, which states that it is discrimination to fail to make reasonable modifications to policies, practices and procedures to ensure equivalent access for people with disabilities (42 U.S.C. § 12182 (b) (2) (A) (ii), 28 CFR 36.302).
The idea here, is that it is discrimination to fail to modify the way you do business—your policies, practices, and procedures—to ensure equivalent access for people with disabilities. This one is cited a lot in digital accessibility lawsuits and a request of injunctive relief to force organizations to change their policies, practices, and procedures is present in nearly every lawsuit we review.
An example of policies, practices, and procedures is requiring a person to complete paper forms to be eligible for services. A modification can be made to allow the person to fill out digital forms for the service without eliminating the requirement for completion of forms.
The basic idea here is that a lawsuit against a website is alleging that the plaintiff has failed to make reasonable modifications to their policies and procedures to ensure the website is accessible. You can't easily indemnify that obligation away. It's (likely) your website and you likely maintain and update some part of it on an ongoing basis. Given that, you're ultimately responsible for ensuring it's accessible. As part of your practices you chose to deploy a widget as the means of making your site accessible and that doesn't actually work. Therefore, you need to change your practices to actually, substantively ensure accessibility.
By using an overlay, you have not substantially addressed the typical demands of an ADA lawsuit which often claim:
The website wasn't built with accessibility in mind even though the defendant reasonably should have been aware that accessibility was a requirement.
As updates have happened, the site hasn't been made more accessible.
The organization has no corporate policy or program in place to become or remain accessible.
You'll note a large amount of this all comes back to policies, practices and procedures: how the covered entity does business. The ADA specifically gives the court the ability to force organizations to modify policies, practices and procedures under 42 U.S.C. § 12188(b)(2)(A)(ii) if that is an "appropriate" remedy. That's mirrored in 28 C.F.R. § 36.504 where the court can force modification of policies and procedures.
The following are the summary of what we see in the current crop of lawsuits as requests for policies, practices, and procedures that would address the alleged discrimination that are not addressed by overlays and widgets:
Qualified Web Accessibility Consultant: Secure a web accessibility consultant that is qualified and can support implementing the requirements. Typically, this is an expert that is mutually agreeable to both parties.
Monitor Compliance: Monitor the site for compliance on an ongoing basis. This includes quarterly monitoring of the full site for accessibility via a scanning tool. Some lawsuits cite this as "periodic" basis—some cite this as ongoing.
Annual Audit: Perform an audit of the website once a year to ensure it is accessible. Typically, this includes a technical audit under a standard like the Web Content Accessibility Guidelines (WCAG) as well as user testing by people with disabilities.
Accessibility Section: Provide an accessibility section of the website with a link to it on the footer of the site. Occasionally, it is requested that this is provided via the International Sign of Accessibility (ISA). The ISA then links to a page that provides an overview of the accessibility program along with information, facts, policies, and accommodations.
Accessibility Feedback and Support: Provide a method for users to deliver accessibility feedback to the organization and get support for accessibility issues. Generally, this is providing some contact information for web accessibility questions. Sometimes these items are co-mingled, sometimes separated out. For our purposes, we'd counsel implementing them in conjunction to ensure a good user experience. Obviously, the method of providing this feedback and getting this support needs to, itself, be accessible.
Development Training: Annual or every-other-year training for everyone that touches the site and may impact its accessibility on the relevant requirements. This generally includes both people in development roles as well as people in content creation roles.
CSR Process and Training: Ensure that there is a method and training to both receive requests for accessibility and handle or escalate them properly. Ensure that your customer success representatives have training on how to work with people with disabilities, identify accessibility issues, and route them properly for resolution.
Web Accessibility Coordinator, Committee: Ensure that there is a specific person responsible for implementing web accessibility—typically referred to as a web accessibility coordinator. Occasionally, there are references to a web accessibility committee which is basically a higher-level guiding body that governs digital accessibility.
Policy: Implement a web accessibility policy. This should include a statement relating to what your overall intent is (full and equal access), technical standards targeted for compliance (WCAG 2.1 is our default recommendation), that you perform user testing with disabilities (you should), and that if people have issues they should use the following approach to report them to you. Often it is requested that this be linked via the ISA from the homepage.
User Testing: Ensure that the website is tested by end users with disabilities. Typically, this is required specifically for the disability type represented by the plaintiff—notably people that are blind or visually impaired. There are requests for different cadences and frequencies of testing here as well.
A Plan: A credible plan for web accessibility that includes any fixes to outstanding issues. We'd counsel that you expose this plan publicly or, at a minimum, indicate it exists and offer to provide it to parties with reasonable interest.
---