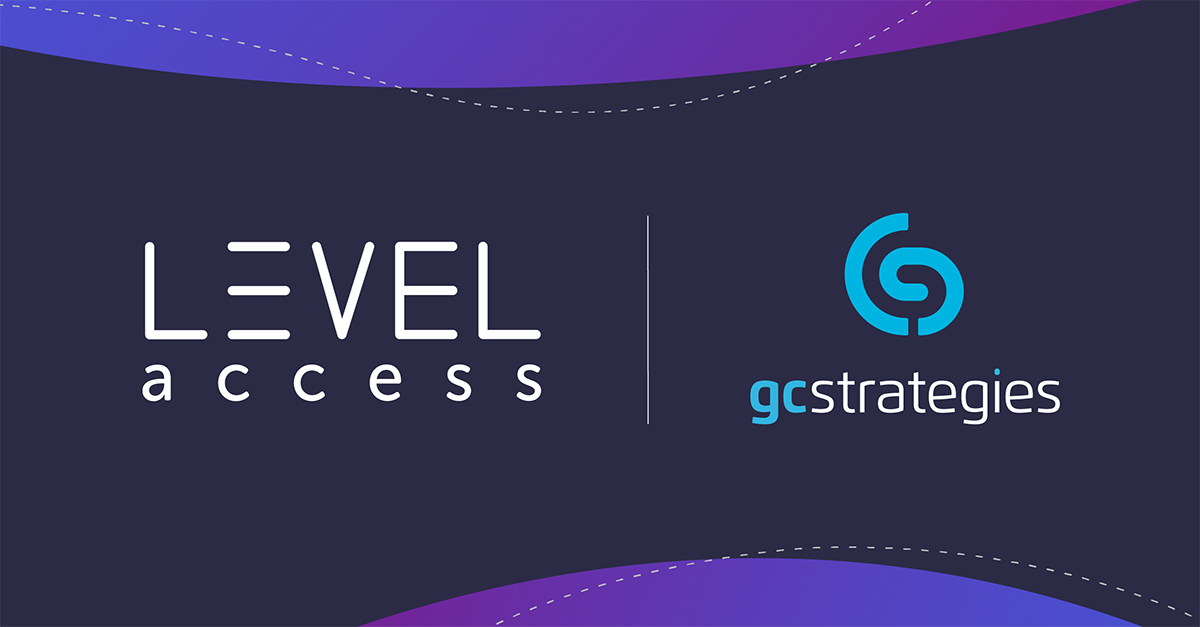 Partnership will increase usability of websites and other technology by Canadians with disabilities
VIENNA, VA – March, 18, 2021 – One of Ottawa's fastest growing companies, GC Strategies, today announced a partnership with Level Access, the global leader in digital accessibility, to offer digital accessibility services to Government of Canada agencies and organizations. The partnership brings years of digital accessibility knowledge and skills to Canadian agencies that are looking to improve the usability of their websites, mobile apps, and other digital assets, meet accessibility laws and governance requirements, and mitigate the risk of fines or discrimination lawsuits.
"Access to technology is a profound enabling force in the lives of people with disabilities and the elderly," said Tim Springer, CEO of Level Access. "Our strategic partnership with GC Strategies will enable products, platforms, and applications that GC Strategies works on to conform to today's accessibility standards. We're delighted with the opportunity and the GCS promise of equal access for all Canadians."
"The expertise that Level Access brings to the digital space is unparalleled," said Kristian Firth, Partner at GC Strategies. "Having a fully accessible platform is a necessity. Government of Canada public facing Web and mobile applications must be available to everyone and that is why we selected the best provider possible to work alongside: to ensure all the platforms we work on meets – and exceeds – the highest accessibility standards."
About GC Strategies
Founded in 2015, GC Strategies have spent the past 6 years aligning themselves with industry leaders to provide innovative solutions to the Government of Canada. They have been recognized as industry leaders in Artificial Intelligence, Data Science, Mobile Application Development and Biometrics. For more information, please visit https://gcstrategies.ca/.
About Level Access
Level Access provides industry-leading and award-winning  digital accessibility  solutions to over 2000 corporations, government agencies, and educational institutions. Level Access's mission is to achieve digital equality for all users by ensuring technology is accessible to people with disabilities and the growing aging population. Founded in 1997, Level Access has an unparalleled history in helping customers achieve and maintain compliance with the full scope of accessible technology regulations and standards including the ADA, WCAG, CVAA, AODA, EN 301 549, and Section 508. Delivered through a comprehensive suite of software, consulting services, and training solutions, the company's solutions ensure customer's web, desktop, mobile, and electronic document systems are accessible to everyone. Level Access is endorsed by the American Banking Association, named a White House "Champion of Change" in 2014, and multi-year repeat winners on the Inc. 5000 list of fast-growing companies.
For more information contact:
GC Strategies
Kristian Firth
kristian@gcstrategies.ca
Level Access
Lorena Garcia
marketing@levelaccess.com
---