Enter your URL below to get an accessibility health score.
Next Steps
1. Register for Free Monitoring
Once you receive your health score, register for free site monitoring via Level Access' Elevin Community Edition. Elevin is an intuitive and easy-to-use dashboard where you can find your latest results, view progress over time, and so much more. You can get simple summaries of your most common issues and where they reside, as well as helpful guidance and learning resources.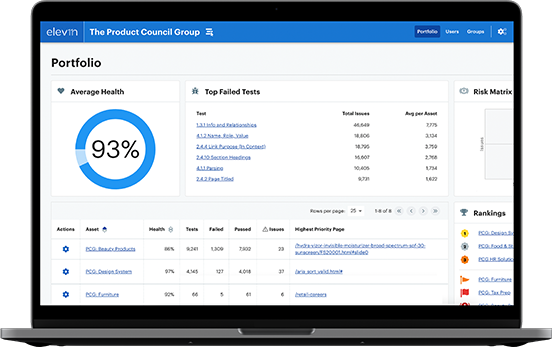 2. Log in to View Dashboard
After signing up, you'll enter the URL you want to have monitored for potential barriers. On your dashboard, you'll receive an accessibility "Health Score" based on your results. This is your digital property's high-level summary – plus several deeper, actionable insights.
3. Get Instant Analysis
In addition to high-level summaries, Elevin automatically identifies the most critical pages or components to prioritize. View every issue identified in your recent scan and exactly where and how often it's reproduced across
the web property.
4. Fix and Monitor
You also get guidance around fixing those issues with Accessipedia, our accessibility knowledge base that provides contextual help, along with free introductory courses. You'll even receive alerts to sudden changes in your UX, so you can act quickly. Instead of relying on various ad hoc automated tests, use Elevin Community Edition to monitor your web property and get valuable insights you can take action on.
What are the benefits of using web accessibility technology?
Why thousands of organizations use Level Access for web accessibility
Testimonials
Testimonials

Considering Accessibility Upfront

"Level Access has allowed us to "shift left" with accessibility experts at the beginning of new projects, coding accessible solutions upfront instead of fixing issues later when it's more expensive."
Testimonials
Testimonials

Better Usability For All Users

"We're trying to be the best that we can, be it for our customers or own associates, when it comes to having a great experience online trying to achieve a goal."
Testimonials
Testimonials

An Outside-In Perspective

"Testing with Level Access lets us verify the user experience with real people with disabilities. That's critical to understanding how our site behaves using the assistive technologies residents depend on."
Testimonials
Testimonials

Accessibility = Inclusion

"We're obsessed with our members and making it easier for them to access all our services and manage their health. Accessibility fits right into that philosophy."